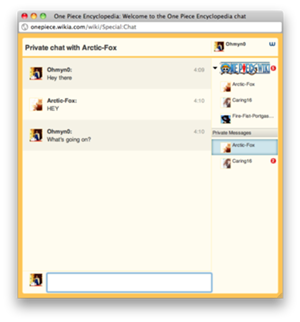 Chat is a new feature that is currently available for all wikis to use via Wikia Labs. You can access it on wiki that has it enabled (including Community Central) by clicking the "Join the Chat" link in the right sidebar of any article page.
We Hear Your Feedback!
Here are some of issues and requests that we have heard. Some are fixed or added already. You can leave additional feedback in Wikia Labs. We won't get around to including every request, but we'll try our best to choose the most important features.
Coming soon!
More speed and stability fixes. Chat will be more reliable.
A revamped kick and ban system.
Some design refreshes.
Recent Released Fixes
Sometimes identities get mixed up, and a user can send messages as another user.
Distinguish messages I've sent via highlighting
Banned users are blocked from chat
Non-admins can be appointed to be a chat moderator
Remove the second avatar if you type two comments in a row.
Bug fix: A user appears in the userlist multiple times.
Bug fix: Some messages are sent (or are posted) twice.
Anons should be able to see the chat access point.
Signify moderators in a better way
Ability to make a moderator within the chat window
Timestamps
Right-rail entry point hover on avatars (for now, it is on click)
General speed and disconnect/connect issues.
Private Chat
In-chat notifications
Emoticons :)
Feature Requests
Please note that this is a list of requested features, not a list of features we guarantee will make it into the final product.
 Answer:Turn "Away" messages via a button, or stay "away" until you send a message rather than moving your mouse.
Ability to have Bots operate
"Quiet" or "Ignore" a certain user
/me messages
Make my text sparkle! (bold, italics, colors, sizes, or HTML)
Ability to connect with a chat client
Pushing "up" should replay your last message
Better help resources on help.wikia or via tooltips within chat
Pushing "Tab" autocompletes a username
Ability to have multiple cross-wiki chats in one window
Hide my chat messages from select people
It doesn't work in Monobook.

Monobook is a skin option for users who want to minimize the user experience changes they experience from Wikia. Out of respect for that, we are not adding chat to that skin. You can manually access Wikia Chat from Monobook by visiting Special:Chat?useskin=wikia
Leave Feedback
More feedback? Please leave it in Wikia Labs. Thanks!